Non-Interventional Clinical Studies and Real-Life Data
According to Law no. 21/2014 of 16 April, a non-interventional clinical trial is a trial in which the following conditions are cumulatively and mandatorily met:
The medicinal products are prescribed or the medical devices are used in accordance with the conditions laid down in the market-ing authorisation (MAA) or the conformity assessment procedure respectively;
The inclusion of the participant in a particular therapeutic strate-gy is not fixed in advance by a study protocol, but depends on cur-rent practice;
The decision to prescribe the medicine or to use a medical device is clearly dissociated from the decision whether or not to include the participant in the trial;
No further diagnostic or assessment procedure, i.e. any additional procedure, is applied to the participants and epidemiological methods are used to analyse the data collected;
Thus, non-interventional clinical trials can be defined as trials in which drugs or medical devices are prescribed independently of the inclusion of the participant in a trial. They are part of the therapeutic strategy, according to standard clinical practice, and are not defined in advance by a study protocol. They may include diagnostic procedures and patient follow-up, in accordance with current clinical practice. As such, these studies aim to evaluate the use of a product or clinical procedure under real-life conditions, and may include for instance risk/benefit assessment, utilisation of health resources, or patient and carer satisfaction.
 In non-interventional clinical studies, clinical procedures and assessments have to follow usual clinical practice, as opposed to clinical trials. As the definition of 'usual clinical practice' can be subjective and lead to disagreement, the European Medicine Agency (EMA), in its Guideline on Good Pharmacovigilance Practices (GVP), states that in non-interventional clinical studies 'interviews, questionnaires, blood sampling and follow-up of patients may be performed as part of usual clinical practice'. In any case, the application of these assessments cannot be carried out in a way that is considered significantly different from usual clinical practice.
Due to the lack of harmonised guidance or regulation in the European Union regarding non-interventional clinical trials, sponsors and investigators have to ensure the safety of the trial participants and the collection of high-quality data by following an appropriate study plan.
Certain EU regulations and guidelines must be followed for this purpose, including, but not limited to:
Regulation 2016/679 on personal data protection
Directive 2010/84/EU on pharmacovigilance and safety reporting (Article 107)
Directive 2001/83/EC on labelling requirements
EMA GVP Module VIII, specific to PASS
European Centers for Pharmacoepidemiology and Pharmacovigilance considerations on the definition of non-interventional trials
Guidelines for good pharmacoepidemiology practice
Applicable legislation and guidance issued by EU Member States
With regard to real-life data, there is growing interest in the use of so-called real world data (RWD) and real world evidence (RWE). RWD is routinely collected data on patient health status and/or health care delivery from different sources. RWE is clinical evidence about the use and benefits or potential risks of a medical product or practice that results from the analysis of real-world data.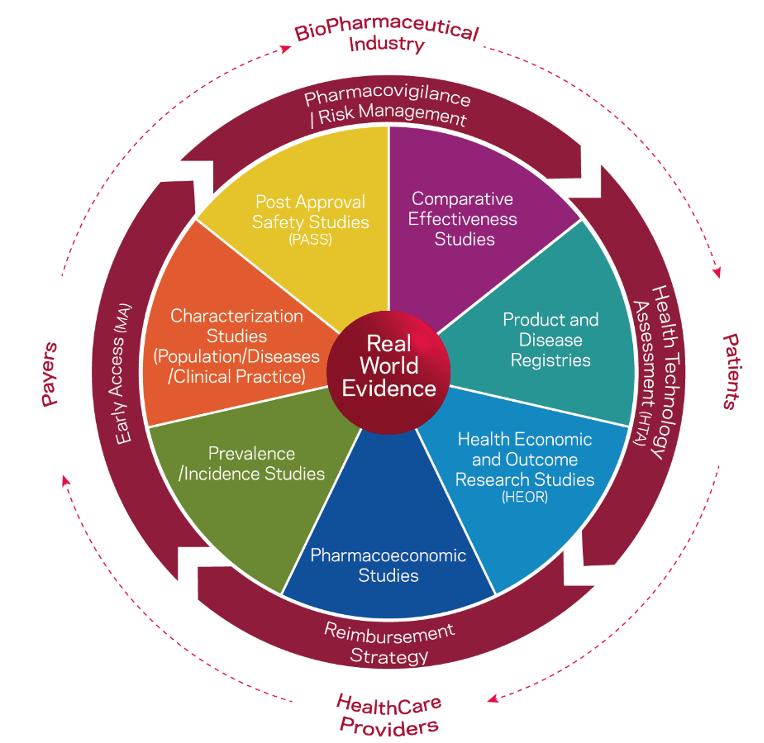 Real World Evidence-based Studies. Adapted from Eurotrials, Scientific Consultants.
Desenhos comuns de estudos observacionais: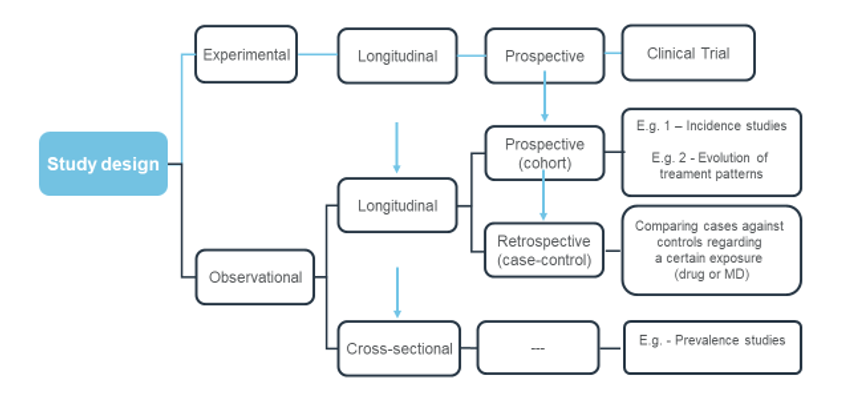 Common observational study designs. Adapted from Eurotrials, Scientific Consultants.
Patient Perspective Studies
Increasingly, the various players in the R&D process are incorporating so-called Patient Preferred Information. The digital ecosystem has given patients the tools to take a central role in treatment decision-making, also based on their own experiences. Their testimonials reflect the benefits and harms of a given treatment, which may go beyond the results of clinical trials and traditional quality of life data.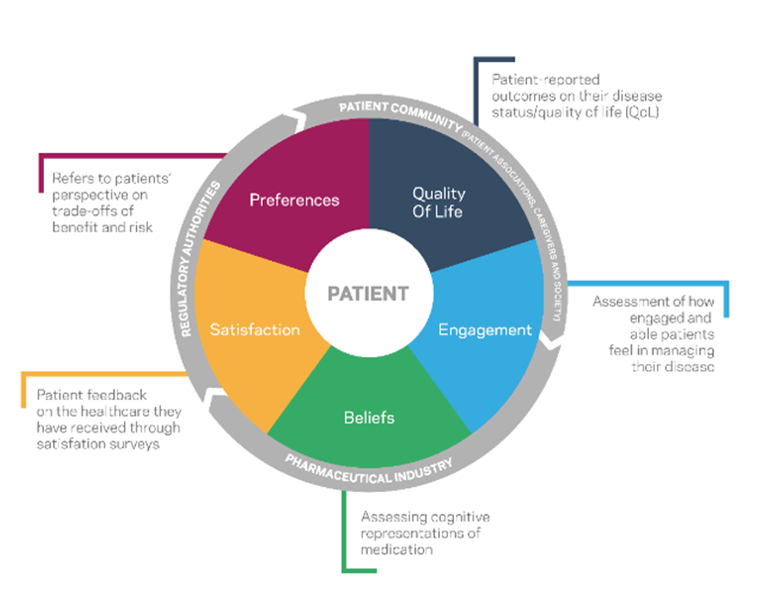 Studies based on the patient perspective. Adapted from Eurotrials, Scientific